Embedded Electricity Networks
At Energy On, our primary focus is smart Electrical Embedded Networks (EEN). We strive to be Australia's foremost energy provider in the design, implementation, and ongoing management of Electrical Embedded Networks. 
As a well-established and respected operator, we seek to inform clients and occupiers about Embedded Electrical Networks and remove some of the mystery surrounding this exciting infrastructure.
We hope that with information at hand our clients and occupiers can make the right choices, as operators of multi-tenant environments such as apartments and office complexes and enjoy competitive electricity pricing and annual surpluses.
What Is an Embedded Electricity Network?
Let's start by defining just what an Electrical Embedded Network is and how it differs from a traditional electricity supply.
In an Embedded Electrical Network, the owner of a multi-tenant environment installs a parent meter and purchases electricity for their entire property as a 'large market customer'. The whole site is supplied by one connection from the local distribution network.
All of the electricity used by the tenants of a building is aggregated to the parent meter, with each tenant fitted with their own private meter. The operator sells electricity to occupiers and collects the revenue, whilst paying for the building's energy use as one account.
Electricity is effectively being supplied in bulk and the owner of a property is able to sell electricity to each tenant at a more competitive rate.
The on-site metering and infrastructure is installed, owned, and operated by the network owner and manager. The operator of the site becomes the customer of the retailer, instead of each occupant of the premises having an individual contract with any number of retailers. This traditionally leads to better pricing for all.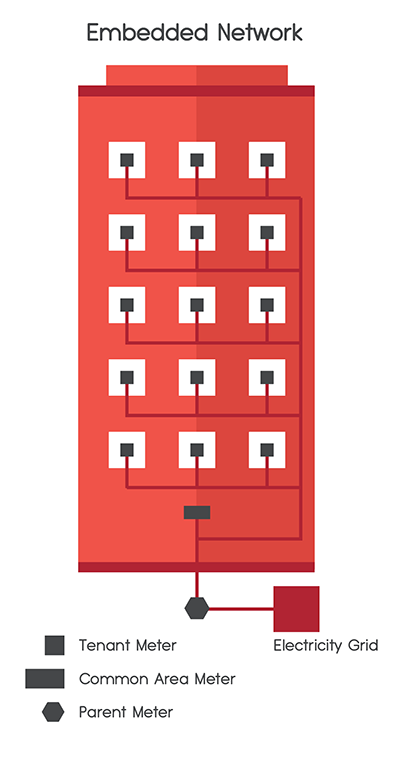 The traditional supply of electricity to occupiers has three key components:
Retail market of electricity
Distribution network for transmission and supply of electricity to an individual meter on the customer's premise; and,
Other Costs (Renewable Energy Charges, Australian Energy Market Operator fees, Metering charges etc.)
The retailer has the responsibility of sourcing the electricity on the customer's behalf and invoices the customer for the electricity used, the transmission through the distributor's network, and other costs.
This arrangement consists of the operator's site being treated as many individual customers, with the retailer directly charging each customer separately.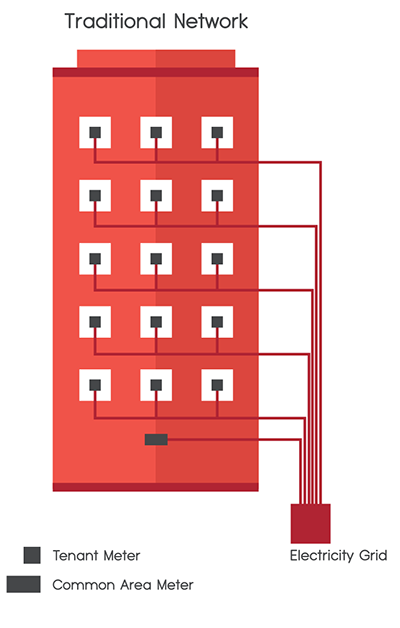 What Are The Benefits Of An Embedded Electrical Network
There are a number of benefits to supplying electricity in an Electrical Embedded Network, as opposed to a traditional electricity infrastructure.
Tenant Benefits
For the tenants of a property, a major benefit is a reduction in energy rates, since they and the other occupants of a building are combining their electricity usage and receive what amounts to a bulk discount from the electricity supplier.
An Embedded Network also removes the hassle of having to shop around for an electrical retailer. Moving into a new home can be a stressful and busy time and an EEN allows the customer to rest soundly in the knowledge that they'll be getting a competitive rate for their energy.
Owner Benefits
In an EEN, individual meters are provided for each occupant and the operator sells the electricity to occupiers and collects the revenue. For the operator of a property, an EEN provides a revenue source for maintenance and other building costs.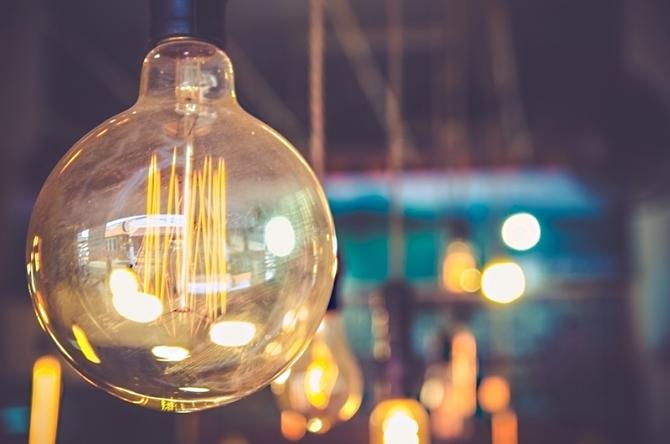 Existing Sites
For Brownfield sites or when a new development is handed over to the Owners Corporation, there are considerable ongoing benefits from an EEN.
These come through an overall reduction in the cost of providing common area services, and surpluses from the on-selling of electricity to occupiers.
Owners Corporation Benefits
| | |
| --- | --- |
| Surplus Availability | ✓ |
| Site Rate Setting | ✓ |
| Contract Negotiation | ✓ |
| Common Area Cost Reductions | ✓ |
| Market Competitive Pricing | ✓ |
| Simplified Move In / Move Out | ✓ |
New Developments
In Greenfield developments, the builder or developer can recoup the cost of meters, save costs in providing the required services and connections, and avoiding paying for connection costs, truck visits and other costs from the distributor.
Delivering an EEN during construction will also avoid delays waiting for each individual meter to be connected and will minimise holdups in testing of equipment and obtaining Certificates of Occupancy.
Often these occur at the end of the project, causing construction issues. An EEN can also minimise electrical costs during construction and offers the potential for ongoing revenue.
Project Benefits
| | |
| --- | --- |
| Metering Costs Options | ✓ |
| LNSP Managed | ✓ |
| Timelines Flexible | ✓ |
| LNSP Costs Removed | ✓ |
| Network Design | ✓ |
What Are The Costs Of An Embedded Electrical Network?
One of the benefits of an Electrical Embedded Network is its cost effectiveness, so how does nothing sound?
Electrical Embedded Networks are all about switchboards and metering. Energy On has a range of solutions that can see sites transformed into Embedded Networks for no up-front costs. Talk to us about your building and we'll sort out a solution that works for you. From capital expense options to pay by the month all inclusive, we know we can work out an option that meets your needs.
How does it generate revenue?
*Energy On compares the current Retailer of Last Resort (ROLR) Standing Offer in the distribution area with the best retail rate in the market and then determines an appropriate site rate from which to achieve the dual outcomes of competitive pricing and surplus potential.
For more information about the costs of an Embedded Network Metering, speak to a friendly Energy On staff member today on 1300 323 263 or get in touch with us.
How To Get An Embedded Electrical Network
Energy On provide the total service for you; from site evaluation and planning, through to network implementation, meter reading, invoicing and credit management of occupiers.
An Energy On Electrical Embedded Network provides a single point of contact for all utility related matters, giving you a partner with a single-minded focus on customer service, with a detailed knowledge and understanding of your site.
Whether you are a builder and developer of new sites or the Owners Corporation and building manager of existing properties, there is an Energy On Niche Network that can deliver for you.
To get an evaluation of how an Energy On Electrical Embedded Network can deliver for your multi-tenant environment, we just need a few simple things:
A Single Line Diagram
The number of apartments and how many bedrooms in each
The number of common areas, lifts etc.
Contact Us today or call us on 1300 323 263 to find out how much your development could benefit from an Energy On Electrical Embedded Network.
It really is that simple.