How To Read Your Electricity Bill
There are regulatory requirements in place that determine what is included in your electricity bill. Energy On complies with these regulations and your electricity bill will be similar to those you have had from an Authorised Retailer. A detailed description can be found on our website.
What are the charges listed on my monthly bills?
The daily charge is a fee for accessing and maintaining an energy distributors network. These fees are regulated by the Australian Energy Regulator and vary depending on where you live. The connection fee is only charged once for when you first moved into your place
and electricity was first connected. It covers costs involved in connecting you to the network ready for when you move in. Unfortunately, this fee cannot be waived for tenant move-ins as the costs involved in this fee are not just for your standard power connection.
How to pay your electricity bill
There are many ways to pay your utility account each month. These options will be displayed to you on each monthly invoice you receive and are as follows;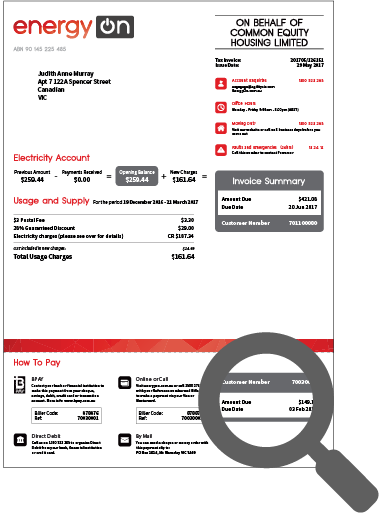 How to Pay from Overseas
You can still make a payment even if you are overseas. Please follow the link below to make credit card payments online:
https://www.energyon.com.au/customers/pay-bill/
Click on "Pay By Credit Card (Online)" and follow the prompts.